ARDEN JUBILEE NURSERIES & ORCHARDS TOUR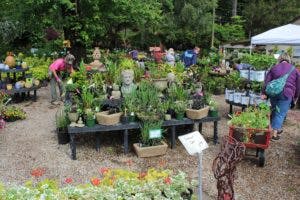 Arden Jubilee Nurseries & Orchards Tour
May 28 – 30, 2021
9 am – 5 pm Daily
Indulge your green thumb with a Memorial Day weekend visit to Hendersonville for the Garden Jubilee Nurseries & Orchards Tour.
Hendersonville's 28th annual garden & plant extravaganza has a new format this year, combining the success of last year's countryside tour to nurseries and orchards with a return to Main Street, scaled back for social distancing purposes.
This new town-and-country format takes place Friday to Sunday, May 28-30, with the downtown portion available Saturday and Sunday only. Main Street is now considered one of 15 stops on the tour. The self-guided tour allows you to have the flexibility of mapping out your own route by starting at the business of your choice.
The self-guided Garden Jubilee Nurseries & Orchards Tour enables the public to experience the fun and great shopping experience of Garden Jubilee. Visitors will have access to products that they may not have access to on Main Street, due to space constraints. By going directly to the various locations, shoppers have the opportunity to peruse their entire inventory, for a much broader selection of merchandise. Nurseries and orchards will also host on-site vendors selling garden accessories, crafts, additional plants and other items. Check out this local event.
Hiram Wells
Sweeten Creek Coffee